 Stories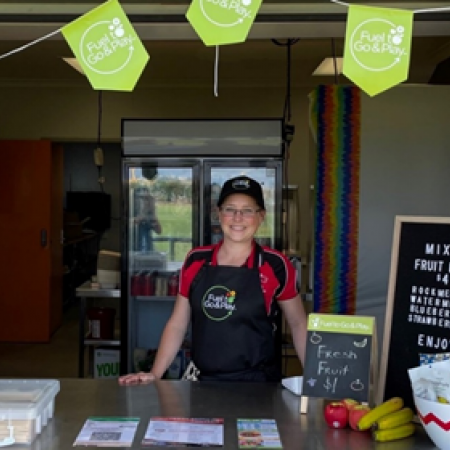 Fuel to Go & Play – turning community venues into a setting for health promotion
Fuel to Go & Play® is an initiative of the Western Australian School Canteen Association Inc. (WASCA), funded by Healthway, focusing on community venues and events as a setting for health promotion. We aim to increase awareness, exposure and provision of healthy food and drink options, through creating healthier food environments such as canteens, cafes, kiosks and vending machines.

Fuel to Go & Play® supports community organisations, events and venues (such as sporting clubs, recreation and entertainment venues) together with the health professionals who work with them. The program offers an extensive suite of tools and resources including a comprehensive website, online training, education and promotional materials, e-newsletters and social media channels. Additionally, our Accreditation Program recognises and rewards venues that are committed to offering a healthier food service with Level 1, Level 2 and Level 3 Accreditation based on core areas (training, policy, action plan, environmental strategies and menu).

We review menus using a traffic-light system to classify food and drinks as green, amber or red, based on their nutritional value, consistent with the Australian Guide to Healthy Eating. Venues work towards meeting targets of offering a minimum of 40% green, and a maximum of 30% red items.
Sporting clubs are major participants of Fuel to Go & Play® through their involvement in the Healthway-funded Healthy Sporting Club Program. Eligible clubs can receive up to $4,000 to help increase healthy food and drink options at club-run canteens or kiosks. Through this initiative, clubs have access to Fuel to Go & Play® online training and a range of branded merchandise to promote healthier menu options. You can hear from some of the venues that have participated in the program below.
Perth Netball Association's story
Mandurah Aquatic and Recreation Centre's story
Perth Broncos American Football Club's story
In addition to being recipients of a Healthy Sporting Club grant, Perth Broncos American Football Club became the first Fuel to Go & Play® Level 3 Accredited venue, the highest level in the program. They offer an impressive menu and have embraced the ethos of the program to promote their healthier food and drink options.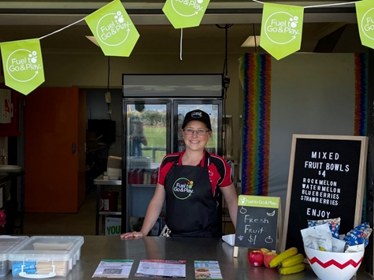 Find out more about Fuel to Go & Play® here.