 Stories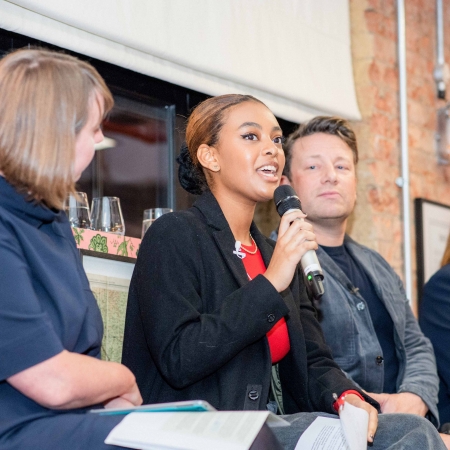 Bite Back 2030 – the UK youth movement demanding healthier food systems
At Bite Back 2030 we believe that every young person deserves access to healthy, nutritious food, no matter where they live. We're a youth-led movement working to redesign the food system and put child health first. That means healthy schools, healthy streets, and healthy screens – everywhere because children living in the poorest areas are twice as likely to be affected than their wealthiest peers.
Bite Back was founded in 2019 by chef and campaigner Jamie Oliver and philanthropist Nicolai Tangen. Our mission is to protect child health by halving childhood obesity by 2030 and to close the inequality gap. Currently, the food system is rigged against us, flooding our world with junk food then putting billions into marketing that makes it impossible to resist. We can and must redesign the system to protect the health and futures of millions of children.
Over the past year, our young people have achieved incredible results, with our National Youth Board going from strength to strength. Their recent #SpillTheBeans campaign has exposed the shocking reality of the school food experience and provides compelling evidence for the UK government to uphold School Food Standards.
In response to the bombardment of junk food advertising experienced by young people, our fantastic Youth Board Chair, Dev, secured a huge win this year, with the Government pledging to end Junk Food advertising online. It was a true team effort; our young people met MPs, wrote letters, and shared powerful content – and we won't stop until the world-leading measures come into force!
We've built on the success of previous campaigns, with significant policy changes on the extension of free school meals over the holidays continuing through 2021 – all sparked by Youth Board Member Christina's inspiring petition which was signed by 450,000 people. Speaking about youth activism as she was awarded the prestigious Diana Award in 2021, she said: 'Young people have a voice in the issues which matter most to them and are driving the change to protect child health. It's insane that not every child has access to healthy and nutritious food. All children should be treated fairly and have the same chances to thrive and be healthy, no matter where they live.'
And as we build on these successes, we've established two new Regional Youth Boards in London and Birmingham, with three more planned for 2022. We've also rolled out our School Food Champions programme in 50 schools, with funding for another 100 later this year.
Watch Bite Back 2030's latest film, Mascots Anonymous, which is part of the #DontHideWhatsInside campaign:
Who was involved?
Bite Back 2030 and the National Youth Board.
Where can I find out more?
Visit the Bite Back 2030 website or follow them on Twitter and Instagram.