 Stories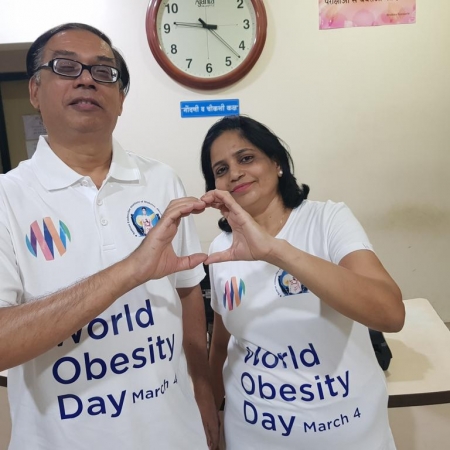 World Obesity Day Celebration 2022
The COVID-19 pandemic has added fuel to the fire of obesity. Dr Hemant Phatale, an endocrinologist and diabetologist, and Dr Priti Phatale, pioneer of childhood and adolescence obesity sub-specialty of the Samrat Endocrine Institute of Obesity, Diabetes & Thyroid Aurangabad, India, are working hard to address the exponential rise in obesity.
On 4th March 2022, on the occasion of World Obesity Day (WOD), the World Obesity Federation (WOF) appealed to all to raise awareness about the exponential rise in obesity and its further consequences. As per this year's WOD theme, 'Everybody Needs to Act', Dr Priti and Dr Hemant, along with the staff of Samrat Endocrine Institute in affiliation with WOF and various organisations, created awareness about obesity among various stakeholders from children to policymakers.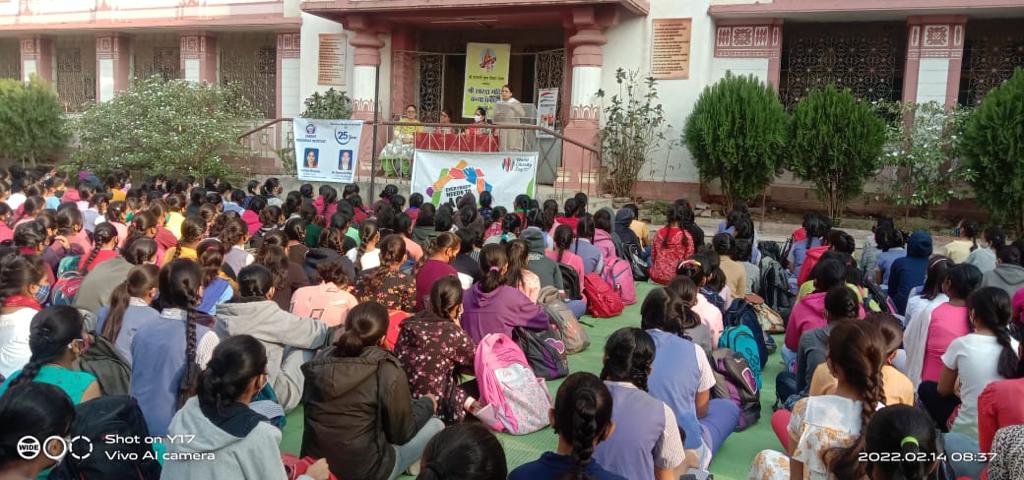 The awareness campaign was started on 14th February at the renowned girls' High School Sharada Mandir, which has been doing enlightenment work in the field of education for 104 years. Dr Priti Phatale spoke to 942 girls addressing the questions: What is obesity? What are its future consequences? And if we tackle it in time, what will be the rewards? It was followed by a similar lecture on 17th February in Dr Desarda Public School to 375 students. Samrat Endocrine Institute, in affiliation with Aurangabad Academy of Paediatrics (AAP) and the All India Association of Advancing Research in Obesity (AIAARO) Maharashtra Chapter conducted various competitions including an essay competition, poster competition, and healthy recipes competition, and a 1-minute exercise video in different schools from 5th to 9th grade. A total of 250 students from 19 schools participated.
From 3rd to 6th March various awareness campaigns about obesity were conducted both online and offline on different platforms addressing parents, teachers, school authorities, health care professionals and policy makers, with Dr Hemant and Dr Priti as key people. Awareness campaigns in regional languages hit their targets and were much appreciated.
On 6th March, a morning cycle rally was organised by Samrat Endocrine Institute in affiliation with WOF, AIAARO, Aurangabad District Cyclists Association and Association of Adolescent and Child Care in India (AACCI). The rally flag was raised by the auspicious hand of Additional Collector Dr Anant Gavhane. He declared that obesity is a serious disease and that everyone should be conscious of its severity. More than 100 cyclists from age 7 to 70 years participated in the rally. Catchy slogans on obesity were displayed on each bicycle.
After starting from the Collector office, the cycle rally ended at Samrat Endocrine Institute. Honourable Nayab Tehsildar Taluka of Aurangabad, Mrs Yogita Katavkar, was the chief guest at the concluding ceremony conducted by Dr Hemant and Dr Priti along with the team. The renowned neurosurgeon, Dr Purushottam Darakh, Senior Paediatrician and Marathwada Regional in charge of AACCI, Dr Datta Kadam, were present. Dr Niti Soni, Marathwada Regional joint chief of AACCI also helped this event.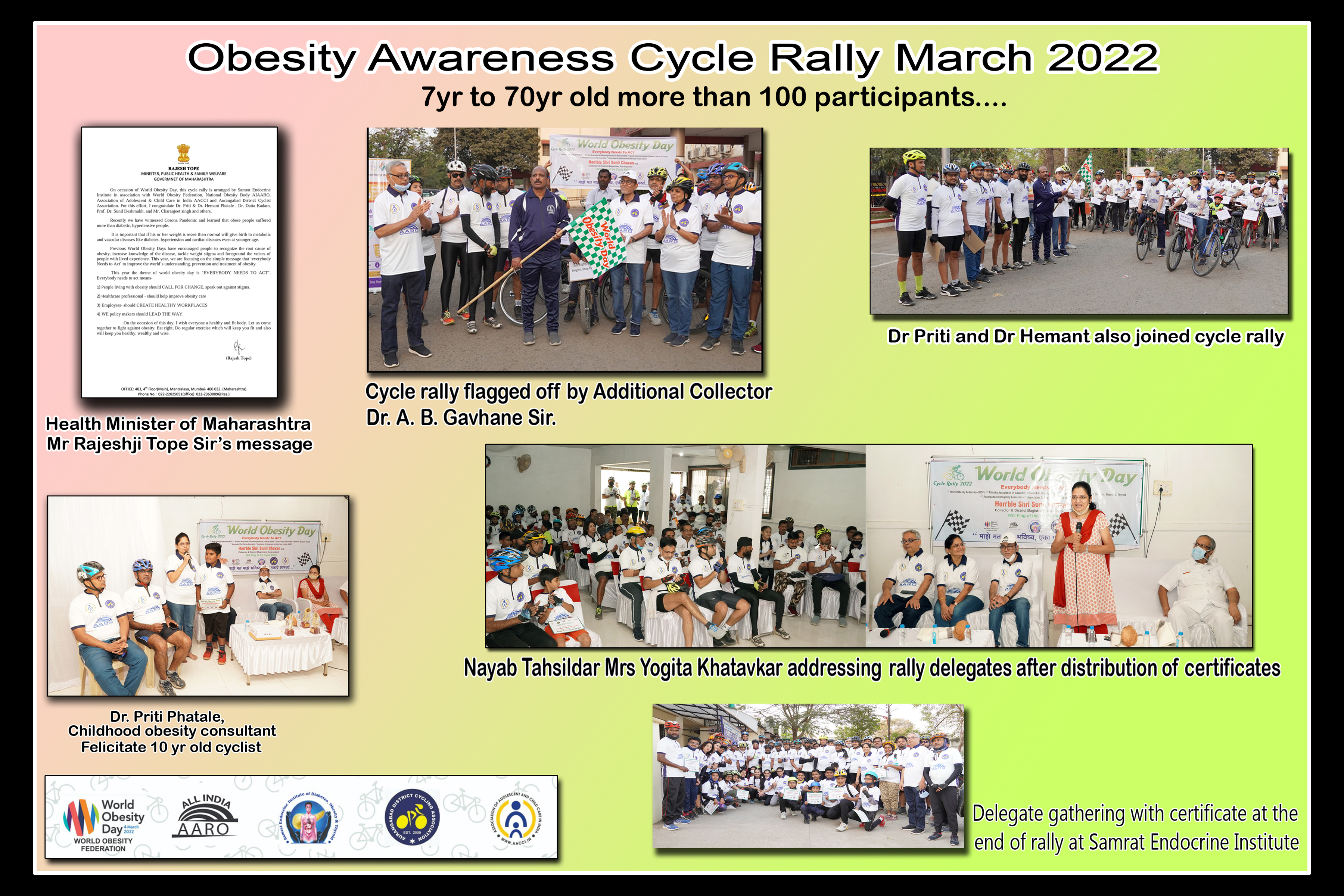 During this concluding programme, Dr Priti Phatale highlighted obesity as a disease and its serious future consequences. Dr Hemant Phatale read the messages of the honourable Health Minister of Maharashtra, Rajeshji Tope, who expressed the need for everyone to work on obesity. He stated that people living with obesity should call for change and speak out against stigma. Health care professionals should help improve obesity care, employers should create healthy workplaces, and policy makers should lead the way.
President of AIAARO, Dr Bansi Saboo, and Secretary Shilpa Joshi, have also conveyed messages to society. Mrs Yogita Khatavkar said that this awakening initiative is highly commendable and if we all work together, obesity can be overcome effectively. During the event, a 10-year-old boy named Soham was honoured for his effective weight loss.
The concluding remarks given by Dr Hemant Phatale and Dr Priti Phatale, in affiliation with various organisations and stakeholders, were:
Obesity is a disease
Obesity is the mother of many diseases
Don't be large, take charge
Eat right, be bright, stay fit
Everybody needs to act to tackle the exponential rise of obesity.
We are very thankful to World Obesity Federation, PAN Society (Indian Academy of Paediatrics (IAP) Nutrition chapter), IAP NCD prevention chapter, Maharashtra State Paediatric Association, All India Association of Advancing Research in Obesity (AIAARO), IMA Aurangabad, Aurangabad Academy of Paediatrics, Association of Adolescents and Child Care in India (AACCI), IAP Pune, and Aurangabad District Cyclist Association.